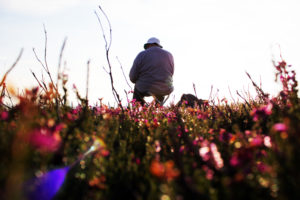 Nicholas Turner first met Peter Hicks in the early 1990's as a teenager living in Danby, near Whitby on the North York Moors. He saw Peter's MA work exhibited locally, which were 7 huge paintings depicting a night walk from Dusk to Dawn. Nicholas became a huge fan and they met up a few times discussing a school essay Nicholas was writing about Peter's methods, comparing aspects of his work to the American Abstract Expressionists. Nicholas moved away from Yorkshire to go to University and moved to London afterwards to pursue a career in film, music and television.
It wasn't until around 2008 that Nicholas attended a rare screening at London's BFI of El Sol Del Membrillo (Dream of Light (USA) / The Quince Tree Sun (UK), 1992) by Spanish master filmmaker Victor Erice where the idea formed to contact Peter about filming him painting. The following day Nicholas wrote a letter to Peter and Peter immediately responded that he thought it would be a great idea. The initial plan was to film Peter working on one painting from the first moment to the last but once the filming commenced it was clear to Nicholas that the film could be a lot more than that.
Dawn to Dusk (2011) was the first feature documentary by Nicholas Turner set entirely on the sumptuous North York Moors choosing 4 locations between Danby and Whitby taking in very different terrain along the way. The film is not a 'how to paint' film but is a broad philosophical meditation on the creative process. Nicholas states 'I wanted the film to appeal just as much to a musician, or a sculptor or a creative writer just as much as it would to a painter'. Transatlantic band colourmusic were at the helm for the emotive soundtrack. In Tandem (2016) was a follow up film charting Peter Hicks and daughter Beverley Hicks as they prepare for their first exhibition together in the glorious Yorkshire Dales. The film is about family and about the similarities and differences that two artists in the same family can have reacting to the world around them. To explore the local Malhamdale landscape, aerial photography was employed to juxtapose the intimate footage of the artists creating their bold works of art. A Retrospective (2017) completes the trilogy exploring more of Peter's history from his childhood to the present, looking at some of his key works over the last 60 years that are represented in his retrospective exhibition celebrating his 80th year.
To visit Peter's artist site please click here.